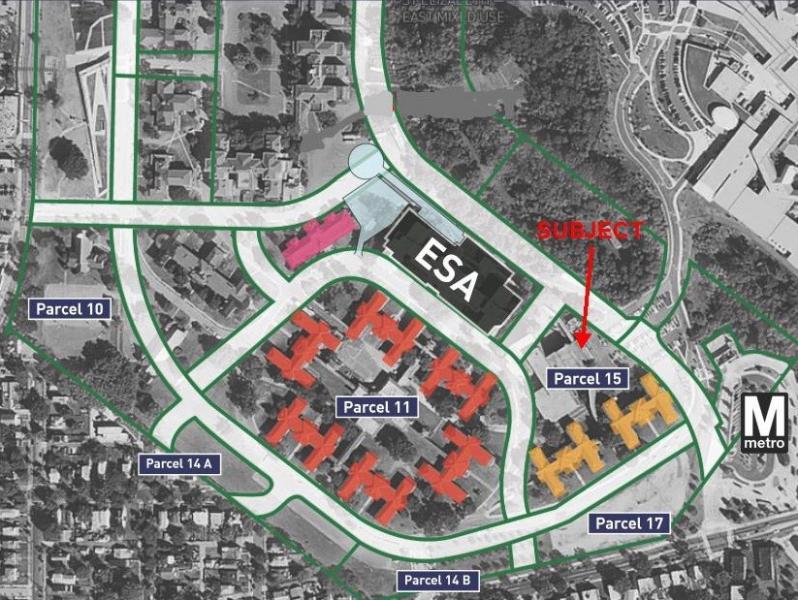 Parcel 15 will serve as the gateway to this mixed-use and innovation-focused community. Adjacent to the Congress Heights Metro Station, the Site comprises just over four acres and can accommodate new construction of up to 373,538 SF, by-right. The Site's position as the gateway to St. Elizabeths East, and prominence within the historic campus provide opportunities for new buildings that exhibit design excellence and creativity. Redevelopment of this parcel should encourage pedestrian traffic and activity, particularly with ground floor retail, and take maximum advantage of its proximity to public transportation and the Entertainment & Sports Arena immediately to the north of the site. While zoning requires some residential use on Parcel 15, the District envisions it as appropriate for additional Class A office use, with ground floor retail, open green space, and one or more levels of underground parking.
On June 22, 2018 the Office of the Deputy Mayor for Planning and Economic Development ("DMPED"), issued a Request for Proposals (RFP) for St. Elizabeths East - Parcel 15 . The deadline for submissions was July 27, 2018.
"Progress is happening on the St. Elizabeths East campus. In September, the new Entertainment & Sports Arena will open, and our Phase 1 infrastructure will be completed. Shortly thereafter this fall, we look forward to breaking ground on 250+ units of affordable housing in seven adaptively reused historic buildings.
As we prepare for Phase 2, we are pleased to announce that we received responses to the Parcel 15 RFP from Flaherty Collins/The Anacostia Economic Development Corporationas well as Redbrick LMD. We are looking forward to evaluating their proposals and sharing with the community soon."
Please check this web page periodically for additional information. Please email Ed Fisher, Executive Director, St. Elizabeths East, [email protected] if you have any questions.