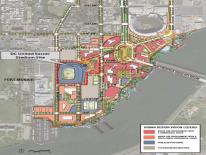 The following documents provide additional information about the overall planning for the proposed soccer stadium and future development of Buzzard Point.
Environmental Mitigation Study (EMS) - The study is a comprehensive study that identifies and documents the impacts on the natural and man-made environment associated with the proposed stadium, including potential impacts related to the acquisition and consolidation of property and the construction and operation of the proposed stadium. The study has been prepared consistent with NEPA and District standards, including specific impact assessment methodologies and the identification of appropriate mitigation measures.
*Draft Buzzard Point Vision Framework & Implementation Plan - The draft plan provides guidance to the public and private sector, building on the nearly $1 billion in investments for the soccer stadium and South Capitol Street Bridge. The draft plan is focused on creating a new neighborhood, an invigorated public realm, an improved and sustainable environment, and a multi-modal transportation network. It also outlines the implementation steps needed to fulfill the plan, and identifies the parties responsible for the implementation. The intent of the draft plan is to inform and guide public and private decisions for the next several years.
Buzzard Point/ DC United Stadium Transportation Impact Studies - The study describes the existing vehicular, pedestrian, and bicycle transportation network surrounding the proposed stadium, as well as the impact that the stadium will have on the network. The study also considers the parking implications created by the soccer stadium. The transportation study identifies mitigation measures to be undertaken in order to minimize the impacts on transportation.
Buzzard Point Framework Plan Transportation Study - The study analyzes the potential traffic impact of the transformation of Buzzard Point from a predominantly industrial area to a vibrant, mixed-use neighborhood. The study analyzes a reconfigured street network, pedestrian connections, and bicycle improvements throughout Buzzard Point, concluding that the proposed transportation network will be able to accommodate the anticipated transportation demands.
M Street Southeast-Southwest Special Events Study Final Report - The study assesses the combined impacts of the potential soccer stadium, Nationals Park, Arena Stage, Wharf Hall and the long-term build out of the greater neighborhood. The study assesses existing conditions in detail, and then assesses 2035 projected multi-modal traffic conditions based on assumptions of transportation investments in the next 20 years
*Draft Transportation Management Plan - The draft plan summarizes the travel characteristics of stadium patrons, reviews comparable stadiums, and outlines recommendations for each mode of transportation for accommodating game-day transportation needs. The draft plan is available in three parts: Executive Summary; Report Body; and Technical Appendix.
The full Environmental Mitigation Study for the proposed stadium will be complete and released this fall. The Transportation Management Plan and the Traffic Operations Plan will both be completed when the stadium project is approved by the DC City Council.
*Under review, subject to change.