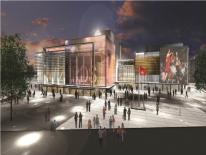 Project Overview
Mayor Muriel Bowser, Events DC, and Monumental Sports & Entertainment are committed to promoting transformative community development in Washington D.C. by the construction of a new Entertainment and Sports Area (ESA). The ESA will be an innovative and unique venue that will provide a much-needed boost to on-going redevelopment in Ward 8, spur greater economic opportunities for residents, and help create more pathways to the middle class.
Catalytic Investment Opportunity
The is estimated to generate 300 permanent and 600 construction jobs, with a goal of hiring residents from surrounding community
The ESA is estimated to attract over 350,000 annual new visitors per year at stabilization.
Over lease term, Monumental Sports is contributing rent equivalent to $400,000/year and investing $10 million as a community investment towards community and economic revitalization of the St. Elizabeths East campus and surrounding community.
Anticipated total new tax revenues at $4.5 million annually for a total of $90 million in new tax revenues over 20 years
including ticket tax, concessions, and income taxes.
Total return on dollars invested for DC is a fiscal return of $4 for each $1 invested in the ESA.
The ESA will drive private investment dollars to the St. Elizabeths East campus redevelopment, including enhanced retail
and hospitality opportunities adjacent to the Congress Heights Metro.
Will spur retail and private development dollars in the surrounding Congress Heights area.
Additional Community Benefits
Paid summer youth program for 21-24 year-olds.
Apprenticeship opportunities for Ward 7/8 residents.
Ban the Box policy to provide greater employment consideration to ex-offenders.
First Source Hiring requirements will provide opportunities to District residents.
35% CBE participation for construction and operations.
Job shadowing programs to expose high-need students to careers in the construction, sports, entertainment and hospitality industries.
Opportunity for Monumental and affiliated entities to occupy office space, bring partners to co-locate on the St. Elizabeths East site.
Philanthropic investments into St. Elizabeths East campus, Ward 8 businesses, Ward 8 workforce development, Ward 8 related educational initiatives, Ward 8 healthy living and fitness efforts, and Ward 8 arts and cultural activities to the redevelopment effort.
Timeline
Community Working Group and Outreach to Kick-off Winter of 2015/2016
Anticipated construction start of July 2016
Anticipated construction completion Fall 2018
Key Terms
Total construction cost of $55M
Sources of construction funds: Events DC $27M, District $23M, Monumental $5M.
Monumental and affiliated entities will invest $10 million at the St. Elizabeths East Campus and in the surrounding community over the 19-year lease term which can include philanthropic investments.
Events DC will construct facility.
District to own facility and retain Events DC as events management company for operations and management under 19 year lease, at no costs to the District.
District's planned Stage 1 infrastructure improvements will service the facility.
Features
5,000 seat Sports and Entertainment for use as:

Concert/ entertainment venue
Community event Programming
Wizards Training Facility
Arena for Mystics and other sports teams

Parking and limited secured parking spots for Monumental
Adjacent to Metro Station (Congress Heights)
Located Outside of Phase 1 Area Currently Under Negotiation