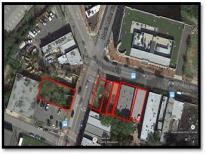 MLK Gateway Community
1909 Martin Luther King Jr. Avenue, SE Square 5770, Lot 0829
1201 - 1215 Good Hope Road, SE Square 5769, Lots 1017, 0847, 0867, 0866, 0864

The Government of the District of Columbia, through the Office of the Deputy Mayor for Planning and Economic Development (DMPED) and the Department of Housing and Community Development (DHCD) are issued a Request for Proposals (RFP) for the MLK/Gateway Community in Historic Anacostia at the nexus of Good Hope Road SE and Martin Luther King Jr. Avenue in Ward 8 on May 31, 2016. The RFP submission deadline was October 17, 2016.
DMPED held a Pre-Response Information Session and Site Visit on June 15, 2016 at 10am at the Department of Housing and Community Development Housing Resource Center Conference Room at 1800 Martin Luther King Jr. Avenue SE, Washington, DC 20020.
On Friday, December 16, 2016, DMPED announced the selection of Menkiti Group and Enlightened, Inc. to lead the development of MLK Gateway.
The development team proposed a 100% commercial project across three sites at this marquee intersection with a total of over 50,500 sf of new development. This will include over 28,500 sf of commercial office space and nearly 22,000 sf of restaurant, grocery, and retail space. The development is projected to generate 50 new jobs and over $21 million in new tax revenues during its first 15 years of operation.
The site located on Martin Luther King Jr Ave SE will include a Keller Williams brokerage office with a Real Estate Entrepreneurship Career Academy and office space for Enlightened Inc.'s tech incubator – the first of its kind in Anacostia – aligning with Mayor Muriel Bowser's commitment to make DC a national model for tech inclusion and entrepreneurship.
Specifically, the incubator will provide mentorship, training and development for the creation of local CBE technology firms while the Real Estate Academy will give Ward 7 and 8 residents the tools to enter the real estate profession and to participate in the development of their neighborhoods.
Enlightened Inc., a successful CBE technology consulting practice with a specialization in cybersecurity, will also move its headquarters from downtown DC to a new office and retail development on the Good Hope Road parcels, bringing 150 jobs to Ward 8. That site will also include home-grown retailers Filter Coffee, Good Food Markets, Smith Commons, and City First Bank.
Menkiti Group will also contribute to the vibrancy of this commercial corridor by redeveloping its own property at 1301 Good Hope Road to include a new Retro Fitness gym and office space for Menkiti Residential. The retail amenities at MLK Gateway will bring valuable services to the Anacostia community and generate activity at this critical intersection. Altogether, the construction of a new flagship building honors, adapts and renews the existing assets of Anacostia while providing opportunities for the future of this historic neighborhood.
Advisory Neighborhood Commission 8A supported the selection of Menkiti and Enlightened, Inc. and was especially encouraged by the substantial amount of new retail in the project. Community members were also supportive of the proposed tech incubator and real estate training program.