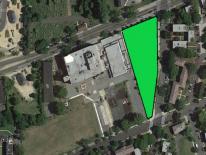 The District, through the Office of the Deputy Mayor for Planning and Economic Development ("DMPED"), seeks to redevelop a portion of Lot 0806 in Square 5914, a parcel of land located at 1351 Alabama Avenue SE, also referred to as the Malcolm X redevelopment. The Parcel is approximately 45,000 square feet in size and sits within the Congress Heights area of Washington, D.C.
Malcolm X is part of the former Malcolm X Elementary School campus, which closed in 2013 and is now the home to DC government facilities and various community-based organizations. The site is adjacent to the Congress Heights Metro Station and close to the Entertainment and Sports Arena on the St. Elizabeth's East Campus.
To facilitate equitable access to District development projects, DMPED incorporated a prioritization for teams that maximize, by percentage of ownership and control, entities designated as Disadvantaged Business Enterprise (DBE) and Residence Owned Business (ROB), or any entities (including non-profits and community institutions) led by, or majority controlled by, individuals designated as socially disadvantaged under the Small Business Administration's (SBA) definition.
This property also should maximize affordable housing, density, CBE participation, local hiring through First Source, sustainability, and transit-oriented development. This project is targeted to include housing for teachers and educators.
In addition to the DMPED RFP at this site, the Department of General Services (DGS) will be issuing a design/build request for proposals for the portion of Lot 806 that includes the physical school building, to be renovated or replaced for a new high school.
Request for Proposals (RFP) was released on July 30, 2020, the submission deadline was October 14, 2020.