In March 2022 Mayor Muriel Bowser proposed the Housing in Downtown program to encourage the creation of new housing in downtown; the Council amended and finalized the incentive during the FY23 budget process. The Deputy Mayor of Planning and Economic Development (DMPED) is charged with issuing regulations for and administering this program. This document provides an overview of how the program will work, based on current law and approved budget. DMPED invites feedback from stakeholders on this document until Feb 28, 2023. Following feedback, DMPED will, if needed, propose legislative changes, and following finalization, issue regulations and advance program implementation.
DMPED will award tax abatements for properties that demonstrate a change in use of the real property resulting in the development of at least 10 housing units. These tax abatements will be achieved through the "Tax Abatements for Housing in Downtown Act of 2022." For eligible properties, the tax abatement will apply to real property tax for a period of 20 years in exchange for at least 15% of new housing units to be affordable to and rented by households earning 60% of the Median Family Income (MFI).
DC's Comeback Plan, released January 9, 2023, focuses on retaining and growing DC's tax base, supporting business vitality, strengthening neighborhoods, and supporting economic mobility of DC residents. The plan includes action to transform Downtown into a lively, mixed-used urban center and introduces a new goal of 15,000 new residents to Downtown by 2028. The Housing in Downtown Tax Abatement is designed to accelerate this transformation and bring more vibrancy to the area through new housing and mixed-use development.

Downtown DC Area Map

The above map serves as the baseline for the District's 15,000 new resident goal and will be used to establish eligibility for the Housing in Downtown Tax Abatement.
HID Abatement Program Details (as of January 2023)
When submitting applications, the property owner must apply for, and justify, the portion of the total amount of abatements being requested for the project. DMPED's annual caps for the program as a whole are:
In FY24, FY25 and FY26, DMPED's total amount of abatements shall not exceed $2.5M for all three years.
In FY27, total amount of abatements shall not exceed $6.8M.
In FY28, and all subsequent years the total amount of abatements shall equal 104% of the prior year's cap (i.e., 4% escalation each year).
In this regard, there is no set percentage for abatement, and the amount will be awarded on a case-by-case basis. DMPED will review all abatement requests.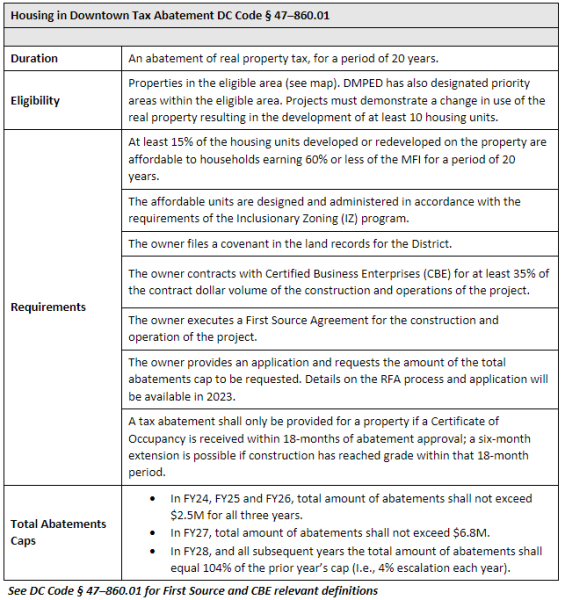 Housing in Downtown Tax Abatement Next Steps
In March of 2023, Mayor Bowser submits the FY23 proposed budget to the Council. The FY2024 budget finalization process will likely be concluded in July of this year. DMPED will issue regulations and a request for applications following the finalization of the FY24 budget.
Discussion
DMPED welcomes feedback and discussion on the Housing in Downtown Tax Abatement, for comments or questions please email Olivia Jovine, DMPED Program Manager, at [email protected].
The deadline for feedback is February 28, 2023.
Resources