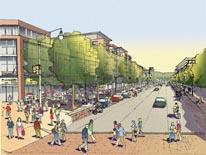 Hill East District Waterfront, (formerly known as Reservation 13), is comprised 67 acres located between the eastern edge of the Capitol Hill neighborhood and the western shore of the Anacostia River. It hosted the former National Capital Medical Center campus, (formerly known as DC General Hospital) now closed, the Central Detention Facility/DC Jail, and other buildings and parking lots, none of which uses invited or made accessible the waterfront to the adjoining neighborhood. The District of Columbia plans to redevelop 50 acres of Hill East District to be transformed into a vibrant, mixed-use urban waterfront community in accordance with the Hill East Master Plan approved by the DC Council in October 2002. Subsequently, in April 2009, the DC Zoning Commission approved the new-form based zoning codes specific to the future Hill East development. Once fully built, this new waterfront community will connect the surrounding Hill East neighborhood to the Anacostia waterfront via tree-lined public streets, recreational trails, and accessible waterfront parklands.
Hill East District Redevelopment (Phase I) - Parcels F-1 and G-1
Proceeding with the first of many phases of redevelopment will allow the overall master plan vision to move forward while taking an approach that adapts to today's economic climate. Request for Expressions of Interest (RFEI) for Parcels F-1 and G-1 Hill East District Redevelopment (Phase I) was released Thursday, October 4, 2012, and the submission deadline was Thursday, January 17, 2013.
The District of Columbia received one proposal from a development team comprised of Donatelli Development and Blue Skye Development. On April 24, 2013, a community meeting was held where the development team presented the proposal.
Current Status
District of Columbia has concluded that evaluation of response submitted for the above-referenced RFEI and community feedback played a critical role in our evaluation and final determination. District has selected the joint venture between Donatelli Development and Blue Skye Development (the "Development Team"), to exclusively negotiate a land disposition and development agreement for Parcels F-1 and G-1 based on the team's proposal submitted in response to the RFEI.
Development Team: Donatelli Development and Blue Skye Development
Proposed Development Program:
Total Apartment Units: 354
248 Market Rate Units
106 Affordable Housing Unit
53 Units at 30% of AMI
53 Units at 60% of AMI
Approx. 20,000 - 40,000 SF of ground floor retail
Approx. 222 parking spaces
Village square - vibrant green community gathering place
Economic and Public Benefits:
60+ construction jobs
60+ new permanent jobs
Approx. $1million in new tax revenues annually
Hill East Master Plan
Proposed Development Plan by Donatelli Development and Blue Skye Development
Parcels F1 and G1 Proposed Development Plan and Rendering (8-27-2013)
A Public Surplus Meeting was held on October 29, 2014. View the summary below.
Hill East District Redevelopment - Public Surplus Meeting Summary - October 29, 2014

Hill East District Redevelopment - Public Surplus Meeting Transcript - October 29, 2014
Surplus and Disposition