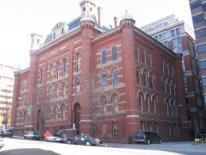 The historic Franklin School building, is located at 925 13th Street, N.W., in Ward 2, directly across the street from Franklin Square. Named after Benjamin Franklin, the flagship school, which is approximately 51,000 square feet in size, was part of the first comprehensive system of free universal public education in the District. The site is designated as a National Historic Landmark, a significant designation that ensures the preservation of major architectural features of both the exterior and interior of the building. The redevelopment of the Franklin School presents an extraordinary opportunity for a leading presence in the heart of the District of Columbia.
The Office of the Deputy Mayor for Planning and Economic Development (DMPED) issued a Request for Qualification (RFQ) on February 9, 2015, seeking a development team to rehabilitate this historic building.
On January 25, 2017, DMPED announced the selection of Ann B. Friedman and Dantes Partners to lead the redevelopment of the historic Frankin School.
Current project information may be found here: