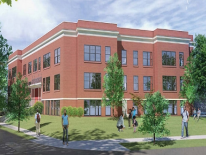 Eastern Branch Boys and Girls Club, located at 261 17th Street SE (Square 1088, Lot 0802) in the Capitol Hill neighborhood in Ward 6. The District of Columbia purchased the property in 2010. In 2016, the property was transferred to the Deputy Mayor for Economic Development (DMPED) portfolio for redevelopment. DMPED released the RFP in April 2017 with a submission deadline of July 31, 2017. The process provided transparency throughout the RFP process as well as accountability for delivering public benefits.
Current project information may be found here.
Please check this web page periodically for additional information. Please email [email protected] if you have any questions.