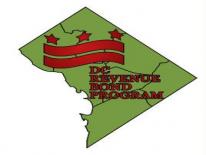 The District of Columbia Revenue Bond Program provides market interest rate loans to help lower cost of funds available for capital projects. These bonds are used to finance a wide variety of projects including: health care, housing, transit and utility facilities, recreational facilities, health facilities, manufacturing, sports, convention and entertainment facilities, elementary, secondary, college, and university facilities, student loan programs, pollution control facilities, and industrial and commercial development.
Bond Issuance
Program funds are generated through the issuance and sale of District of Columbia revenue bonds, notes, or other obligations. Proceeds from the sale of tax-exempt issuances may be used to finance, refinance and reimburse costs of acquiring, constructing, restoring, rehabilitating, expanding, improving, equipping and furnishing real property and related subordinate facilities. Limitations may apply to the use of bond proceeds for the acquisition of land and the purchase of existing property, depending on the location of the site and the type of applicant.
DC Enterprise Zone (EZ) Program
The District of Columbia Enterprise Zone Program designation expired December 31, 2011.
For additional information or questions please contact the DC Revenue Bond Program at (202) 724-7299.
Revenue Bond Program Resources
For further information on federal incentive or the Application for Revenue Bond Financing call or write:
District of Columbia Revenue Bond Program
Office of the Deputy Mayor for Planning and Economic Development
1100 4th Street, SW
Suite E500
Washington, DC 20024
(202) 724-7299
Revenue Bond Program References:
• Photos of DC projects financed by Revenue Bonds