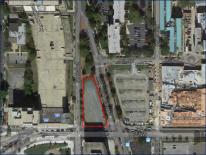 The property known as "Capitol Vista" is a 9,653 square foot triangular-shaped parcel located at the intersection of 2nd Street N.W. and H Street N.W. It is located in the Mount Vernon Triangle neighborhood and bounded by 2nd Street N.W. to the west, H Street N.W.to the south, and New Jersey Avenue N.W. to the east. The property has served as a gravel parking lot since it was acquired by the National Capitol Revitalization Corporation (NCRC) in the early 1960s.
A Request for Proposals (RFP) was issued on April 17, 2015, and closed on June 5, 2015. On March 25, 2016, the Office of the Deputy Mayor for Planning and Economic Development (DMPED) selected Voltron Community Partners, comprised of Dantes Partners, LLC, Spectrum Management, LLC, The Menkiti Group, and Bailey Real Estate Holdings, to redevelop the parcel.
Current project information may be found here:

Questions regarding this project should be directed to Patrick Smith, Project Manager at [email protected].