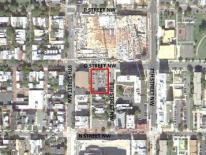 The Government of the District of Columbia (the "District"), through the Office of the Deputy Mayor for Planning and Economic Development ("DMPED"), issued a Request for Proposals (RFP) to develop Lot 0068 in Square 0399, located at the intersection of 8th Street and O Street, NW (1336 8th Street, NW), Ward 6 on December 12, 2013. The RFP closed on March 5, 2014.
A Pre-Response Conference was held on January 9, 2014 at Kennedy Recreation Center, 1401 7th Street, NW, Washington, DC 20001.
On April 7, 2014, DMPED announced the six respondents to the RFP. The six respondents were: A&R Development and The Urban Group; Four Points LLC and The Warrenton Group; Madison Investments and Audubon Enterprises; Orr Partners; Pounds and Taurus Development; Roadside Development and Dantes Partners
The District sought development plans that reflected the importance of the site to the surrounding community and that met the objectives of consistency with the District's Comprehensive Plan for mixed-use transit-oriented development, high architectural design quality that maximizes density and is economically viable, a residential component containing affordable housing and neighborhood serving retail.
On June 3, 2014, a Short-List of respondents were announced.The short-list teams presented their proposals to the community on June 30, 2014 at the Center City Public Charter School. View the proposals below.
On September 2, 2014, DMPED announced the selection of the team of Roadside Development and Dantes Partners. The Roadside Development team's plan includes approximately 70 residential units above street-level retail that fronts O Street NW. The project will be constructed to meet LEED Gold standards. It will offer affordable housing opportunities to District residents and set aside space for use by community stakeholders. The District and the development team are currently engaged in project negotiations and pre-development activities and are targeting project construction commencement in 2016.
8th and O Streets, NW Land Surplus and Disposition
8th and O Streets, NW Legislative Package