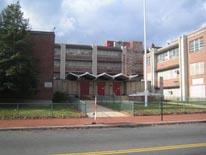 The Office of the Deputy Mayor for Planning and Economic Development (DMPED) issued a Solicitation for Offers for the redevelopment of Hine Junior High School. This school drew 11 bidders from around the country. After a series of community meetings and developer presentations, the District selected Stanton-EastBanc based on several criteria: vision, past performance, financial capacity and community feedback.
Three years after being awarded the project through a competitive solicitation process, Stanton-Eastbanc, LLC received approval from the DC Zoning Commission to move forward with the redevelopment of the Hine School in 2012. Currently, the site is clear of all previous improvements.
Stanton-Eastbanc along with DMPED held a ceremonial groundbreaking on the Hine School site on July 17, 2015 to celebrate the imminent construction of the mixed use development.
Development Partners
Stanton Development Corporation, EastBanc Inc., Dantes Partners and Esocoff & Associates/Weinstein Studio Architects
Development Program
• Site Area (GSF): 510,000
• Office Space (GSF): 180,000
• Retail (GSF): 60,000
• Residential Units: 162
• Parking: 327
Community Benefits
• Affordable Housing - 46 apartments are being set aside as affordable, including:
12 reserved for households at or below 80 percent of the area median income (AMI)
29 reserved for households at or below 60% AMI
5 reserved for households at or below 30% AMI
• Construction of a new street ("C Street" SE)
• 20% of retail square footage is reserved for local retailers
• ANC community meeting space and office space
• A child development center will be included in the project
• North Parcel will be certified as LEED Silver and South Parcel will be LEED Gold
Economic Opportunities
• Provides new neighborhood-serving retail and restaurants
Surplus and Disposition