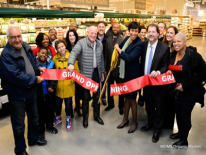 All the building blocks for retail—walkable neighborhoods, disposable income, millions of tourists, top-notch public transit and vibrant cultural institutions—are present here in the District of Columbia. As a vibrant international city with a strong base of creative industries, research institutions, and government and business innovation, DC is currently ranked as one of the healthiest retail markets in the US. With a population that is growing at an average of 1,100 per month, the District is well poised to grow its retail sector.
The daytime swelling of the city population to more than one million people and the millions of visitors each year provide ample opportunity for the realization of quick growth in retail. The last decade has seen unprecedented growth in this sector, and its expansion beyond the traditional downtown and Georgetown communities. Although the Gallery Place Chinatown, CityCenterDC, and new Convention Center complex have brought new vitality to downtown, it is the newly thriving cultural centers of U Street, H Street, the Riverfront, and neighborhoods like Shaw and Brookland that area residents talk about.
Currently, the food and beverage subsector creates a third of all retail jobs in the city. Clothing and accessories account for over 17 percent, followed by health and personal care stores at over 12 percent.
Notable retailers set to expand in the District over the coming years include Walmart, which will open three additional locations by 2016; Whole Foods, with locations set to open on H Street and on the Capitol Riverfront by 2016 and 2017, respectively; Landmark Theaters, which will open new locations on 14th Street and in NoMa by 2016; and Busboys and Poets, which is slated to open new locations in Brookland and Takoma by spring of 2015. February 2014 on a net basis. Explore other highlights below.
Washington, DC has been ranked the #1 retail investment market
(by both Marcus and Millichap and ChainLinks & Terranomics)
Retail jobs increased by 6,800 positions over the 12 months ending in February 2014.
1.7 million retail square feet under construction
GREAT STREETS
The Government of the District of Columbia through the Office of the Deputy Mayor for Planning and Economic Development (DMPED) administers the Great Streets Retail Small Business Reimbursement Grants, which are competitive grants of up to $50,000 for qualified small business owners who wish to improve their place of business. The purpose of the grant program is to support existing small businesses, attract new businesses, increase the District's tax base, create new job opportunities for District residents, and transform emerging commercial corridors into thriving and inviting neighborhood centers.

To see how you can become apart our story, please contact:
Sybongile Cook
Sector Manager for Retail and Great Streets