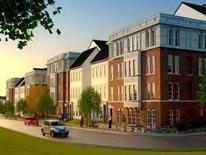 Sheridan Station joined Matthews Memorial as a development opportunity that has provided high quality housing options for District residents and that has expanded mixed-income communities in Ward 8. The District, along with its development partners, delivered this large-scale housing project which will total 344 new multifamily units, townhomes, Manor Flats and three tot lots.
The project has provided 65 replacement housing units for Barry Farms residents, with 25 units in 2011 and 40 units to be delivered in 2014. The project will be developed in 4 phases: Phase 1 - Multifamily Rental and Townhomes (114 Rental Units), Phase 2 - Townhomes (80 For-Sale Units), Phase 3 - Townhomes (65 Rental Units) and Phase 4 - Townhomes (85 For-Sale Units).
Phase 1 was completed in December 2011.
Development Partners
W.C. Smith & Co., the Jackson Investment Co. and Union Temple CDC
Development Program
Residential: 344 multifamily units and rental townhomes (total over 4 phases)
Phase 1: Multi-family and Townhome Rental (144 units)
Phase 2: Townhomes (80 for-sale units)
Phase 3: Townhomes (65 rental units)
Phase 4: Townhomes (85 for-sale units)
Land Area: 9.8 acres
Development Cost: $100 million
Community Benefits and Civic Investments
Draw hundreds of new residents to high quality housing units and generate new mixed-income communities east of the Anacostia River.
Replacement housing units for nearby Barry Farm residents.
Improved connections between the Anacostia River and Historic Anacostia, Barry Farm and other surrounding communities
Economic Opportunities
Hundreds of new housing units at affordable and market rate price ranges