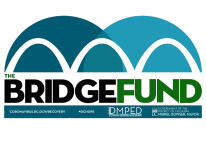 Previously referred to as Small Business Rent Relief & COVID-19 Small Business Relief Grant Program.
Small businesses are still recovering from revenue losses experienced during the Public Health Emergency and are facing new challenges from new COVID variants. While many of these businesses have received relief funds from District and federal relief programs, they continue to need financial support to ensure they can fully recover and remain viable in the future. The Bridge Fund will provide financial relief to small businesses that earned $5 million or less and experienced at least a 20% reduction in revenue during the Public Health Emergency related to COVID-19. This program will prioritize businesses that have not received federal relief funds (Paycheck Protection Program).
The Bridge Fund is a non-competitive grant program that will award eligible small businesses with consideration to core expenses, economic distress, location, length of revenue generating operations, and District resident employment. During the application review period, businesses that meet the following criteria will receive priority review for eligibility and award amount:
Businesses with no more than $2.5 million in revenue each in 2019, 2020, and 2021
Business that did not receive an award from the Paycheck Protection Program
Application Period One: Open: Monday, January 24, 2022 |Close: Friday, February 25, 2022 at 11:59 PM EST
Application Period Two: Open: Saturday, February 26, 2022 | Deadline: Thursday, March 31, 2022 at 5:00 PM EST
View the application here.
Information Sessions:
Monday, March 7th 4:30-6:30pm at Art Enables, 2204 Rhode Island Avenue NE
Thursday, March 10th 2:00-4:30pm at Marshall Heights Community Development Corporation, 3939 Benning Road NE
More information: