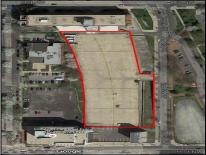 The Parking Deck at 2nd & K Streets NW ("Parking Deck") is located in the Mount Vernon Triangle neighborhood of Ward 6. The site lies directly above the I-395 freeway, bounded by 2nd Street NW to the east, H Street NW to the south, 3rd Street NW to the west, and K Street NW to the north. More specifically, the site includes Lots 0830 and 0834 in Square 0560 and Air Rights Lot 7000. The site is zoned C-2-C, which allows by-right, high density development with a broad range of uses including office, hotel, retail, and mixed use development. At present, the site is an active parking lot.
The Office of the Deputy Mayor for Planning and Economic Development ("DMPED"), issued a Request for Proposals (RFP) for the Parking Deck on May 2, 2016.
DMPED has completed an engineering analysis of the parking deck underlying Air Rights Lot 7000. The analysis consists of three reports which are posted below.
See Supplement to RFP.

Please contact Mark Corneal, Project Manager at [email protected] with questions.