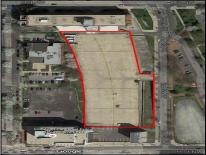 Parking Deck at 2nd & K Streets NW
The Office of the Deputy Mayor for Planning and Economic Development ("DMPED"), is issued a Request for Proposals (RFP) for the Parking Deck at 2nd and K Streets NW in the Mount Vernon Triangle Neighborhood of Ward 6 on May 2, 2016. The site lies directly above the I-395 freeway, bounded by 2nd Street NW to the east, H Street NW to the south, 3rd Street NW to the west, and K Street NW to the north.
DMPED held a Pre-Response Information Session and Site Visit on May 16, 2016 at the Walker Jones Education Campus, 1125 New Jersey Avenue NW, Washington, DC 20001.
On February 15, 2017, three development teams presented their proposals to the community. The community then had an opportunity to ask questions and provide feedback on the presentations. The presentation are posted below.
DMPED has completed an engineering analysis of the parking deck underlying Air Rights Lot 7000. The analysis consists of three reports which are posted below.
See Supplement to RFP.

Please check this web page periodically for additional information. Please email Mark Corneal, Project Manager at [email protected] if you have any questions.