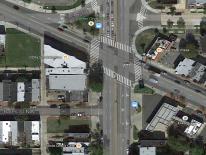 The Truxton Circle site is an approximately 0.11 acre parcel located at 1520 – 1522 North Capitol Street, NW, in the Truxton Circle neighborhood of Ward 5, designated as Lot 0842 in Square 0615 ("Site"). The Site is bounded by North Capitol Street, NW, to the east, Bates Street to the north, row-houses to the south, and an alley to the west. New York Avenue and the NoMa-Gallaudet University Metro Stop are a few blocks southeast of the Site.
A Request for Proposals (RFP) for the Truxton Circle parcel was issued on April 17, 2015. The submission deadline for proposals was May 29, 2015. On March 25, 2016, the Office of the Deputy Mayor for Planning and Economic Development awarded the exclusive rights to negotiate the redevelopment of the parcel to the development team comprised of Urban Green, LLC and Flywheel Development.
Questions should be directed to Tsega Bekele, Project Manager, at [email protected].
Notice of Public Meeting Regarding Surplus Resolution Pursuant to D.C. Official Code § 10-801
The District will conduct a public meeting to receive public comments on the proposed surplus of District property. Please note that written comments will be accepted until Tuesday, August 1, 2017. The date, time and location shall be as follows:

Property: Truxton Circle, 1520-1522 North Capitol Street, NW
Date: Monday, July 17, 2017
Time: 7:00 - 9:00 PM
Location: Mt. Sinai Baptist Church
1615 3rd Street, NW
Washington, DC 20001
Contact: Tsega Bekele, [email protected]
(202) 724-2370