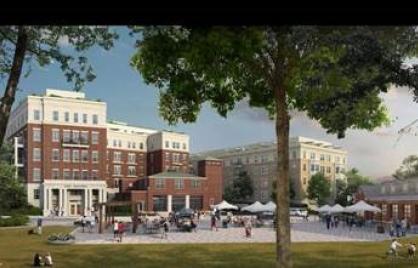 Washington Business Journal by Michael Neibauer
The Parks at Walter Reed, the redevelopment of 66 acres within the former Walter Reed Army Medical Center campus in Northwest Washington, is advancing with a new website and brand just in time for the big marketing push in Las Vegas.
Jointly developed by Hines, Urban Atlantic and Triden Development Group, The Parks at Walter Reed will ultimately be built out by 2030 with 3.1 million square feet of mixed-use — between adaptive reuse and new construction —— plus 20 acres of open space. The first two market-rate buildings, called The Brooks and The Vale, will bring 390 multifamily units and 18,000 square feet of retail to the corner of Georgia Avenue and Aspen Street.
Those buildings are expected to deliver in 2020, according to a recent presentation made to the Walter Reed Local Redevelopment Authority's Community Advisory Committee.
The development team's new website comes with a new brand launch with Streetsense and CBRE in tow. The group will take its project to the International Council of Shopping Centers conference in Las Vegas later this month, where retail deals are often started, or made.
The Parks at Walter Reed slogan: "Uptown and unexpected."
The overall project is still slated to include 1,360 apartments, 600 condos, 185,000 square feet of office, 240,000 square feet of retail, 35,000 square feet of "creative" space, 150,000 square feet of hotel and conference space, and 96 townhomes.
More Walter Reed updates:
The first two residential projects within The Parks at Walter Reed will provide roughly 200 affordable apartments for veterans and seniors. Those will be located within Building 14, and will be under construction by June. The developers include HELP USA, 1750 K Affordable Partners and Housing Up, with support from the D.C. Department of Housing and Community Development and the Housing Finance Agency.
Construction on the town center portion of Walter Reed, on the former site of the main hospital building, is expected to begin in 2019 and deliver in 2021. The first phase will include 310 apartments and 60,000 square feet of retail.
Three events will take place on the campus this summer: By the People Festival presented by Halcyon, Jazz in The Parks and Fitness in the Parks.