Tuesday, February 7, 2017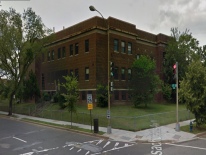 Washington Business Journal by Karen Goff
The District is reopening a request for proposals for the redevelopment of the former Eastern Branch Boys & Girls Club, an 80-year-old building in Hill East that has been vacant for a decade.
The office of the Deputy Mayor for Planning and Economic Development held a recent community meeting —another is scheduled for Feb. 16 — to gauge citizen interest in what the 31,028-square-foot building at 261 17th St. SE could become. The project is now part of DMPED's Our RFP, a relatively new initiative to engage the community early in redevelopment processes. DMPED awarded its first Our RFP project, Parcel 42 and the Crummell School, last fall.
"By bringing in the community early, they have a voice in neighborhood development," said DMPED spokesman Joaquin McPeek. "Our RFP will help accelerate the process."
The building has been through an RFP process before. The District bought the building from the Boys & Girls Clubs for $20 million in 2010.
In 2014, under then-Mayor Vincent Gray, the Department of General Services issued an RFP for the property, then zoned R-4. That meant it could be converted to residential, a church or a school. The building is not a historic landmark but that RFP suggested the building be repurposed rather than razed and replaced. The District received two plans: a 100 percent affordable housing proposal from Dantes Partners and The Menkiti Group that added two stories to the building and a market-rate senior housing development by Century Associates. But the proposals were met with significant opposition from citizens and neighborhood commissioners. Among the issues: The site was to only be leased to the developer for 25 years and the community preferred a longer-term lease.
The plan was also not in keeping with the vision for the neighborhood, D.C. Councilman Charles Allen, D-Ward 6, told WBJ. The RFP was canceled by the District in the summer of 2015.
"The proposals did not match up to what the neighbors wanted," said Allen. "I talked with the mayor's folks, and we figured we should start over."
Allen said the feedback at the Jan. 28 community meeting was productive.
"We have had some really good input," he said. "The neighbors talked about what is important and what they would like to see. They would like to see housing, senior housing, units that are up to two bedrooms. They want a connection to the community, with meeting space, day care, or adult day care."
Under new zoning guidelines, the property is now a RF-1, which means it should be at least 60 percent residential and could also be a school, place of worship or clinic.
McPeek said the RFP will open this spring.
http://www.bizjournals.com/washington/news/2017/02/06/district-to-offer-another-try-at-redeveloping.html?ana=RSS&s=article_search