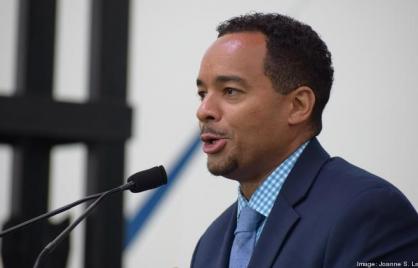 Washington Business Journal by Daniel J. Sernovitz
Officials in D.C., Maryland and Virginia have initiated a series of talks about ways to collectively position Greater Washington to win Amazon.com Inc.'s second headquarters despite having separate bids for the major economic development prospect.
Brian Kenner, D.C.'s deputy mayor for planning and economic development, acknowledged the conversations after WAMU reported Thursday on the existence of a letter in which the jurisdictions' top elected officials appeared to present a unified front in pursuit of HQ2, as the Seattle-based e-commerce and cloud computing company has dubbed its search.
"We are the only place where we are talking to two other competitors. I don't think that Pittsburgh is talking to Chicago. I don't think that Philadelphia is talking to Raleigh, or whatever it is," Kenner said at the Downtown D.C. Business Improvement District's State of the Downtown event Friday morning.
Kenner said he has spoken specifically with the commerce secretaries in Maryland and Virginia as well as the economic development officials in Arlington and Montgomery counties.
D.C., Montgomery County and Northern Virginia were each named to Amazon's short list of 20 in January, fueling speculation of a potential bidding war between the three. D.C. hopes make the case for why it should be picked over its two regional competitors, Kenner said, but at the same time they stand to gain collectively if selected for Amazon's (NASDAQ: AMZN) second home.
"We feel like it is a benefit for the entire region if they come anywhere in the region," Kenner said. "That does not preclude that we each have our own competitive advantages, and we want to make sure that Amazon knows, sort of, effectively the best foot forward for Washington, D.C., specifically."