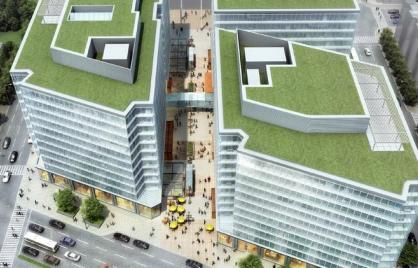 Washington Business Journal by Michael Neibauer
Property Group Partners made it official Tuesday: The American Petroleum Institute has signed on as the first office tenant at Capitol Crossing.
API, the national trade organization for the oil and natural gas industry, will take 75,000 square feet across two floors at the 406,000-square-foot 200 Massachusetts Ave. NW in late 2018. It joins Danny Meyer's Union Square Hospitality Group as the only named Capitol Crossing tenants.
Developer PGP is going for "beyond LEED Platinum" certification with the 12-story 200 Mass, a project featuring cisterns to capture storm water runoff, a system to harvest ground water for reuse, cogeneration power and rooftop greenery and shade. "API will become part of a transformative and vibrant new destination in the District that is taking an innovative and sustainable approach to urban development," Jack Gerard, API president and CEO, said in a release.
API is currently headquartered at 1220 L St. NW. The ambitious Capitol Crossing sits on a new deck atop Interstate 395 between E Street and Massachusetts Avenue, bridging what some refer to as "the scar downtown." The first two office buildings there, 200 and 250 Massachusetts, account for roughly 1 million square feet of retail and office space.
At buildout, expected in 2022, the $1.3 billion project will total 2.2 million square feet.
Site work on Capitol Crossing kicked off in 2014, with a ceremonial groundbreaking in May 2015, during which Mayor Muriel Bowser said the project will "reconnect two vibrant parts of our city" that were split by the Center Leg Freeway.
Greg Lubar and Chris Bynum of JLL represented API. Art Santry, Laurie McMahon, Bruce Pascal and Ned Goodwin represented PGP.