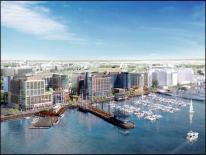 A remarkable, mile-long waterfront neighborhood is taking shape in Washington, D.C. The Wharf is a mixed-use waterfront opportunity, coming to life in the heart of the nation's capital. Located within walking distance of major commerce, The Wharf is centrally situated on the Potomac River, along the historic Washington Channel, a short distance from beloved national monuments, The White House, The Capitol and Smithsonian Museums. The Wharf holds an unrivaled location, and an extraordinary vision for a new waterfront neighborhood, presenting what is truly a once-in-a-generation opportunity. With 27 acres of land at 50 acres of waterfront and an exciting, innovative vision, The Wharf is poised to become D.C.'s next great meeting place.
We envision active public spaces for outdoor activities, a clean and healthy river bustling with marine traffic, abundant retail catering to and fulfilling lifestyle needs, and great cultural and education landmarks. The benefits to the city of Washington are endless; here are some of the highlights:
Affordable Housing
30% units of affordable housing
50% affordable to households of 60% median income or less
50% affordable to households of 30% median income or less
LSDBE Participation
20% LSDBE beneficial ownership of the Master Development entity
35% of all goods and services to be acquired from CBE sources with preferences given to Wards 5, 6, 7, and 8
First Source Hiring / Workforce Development
1,000 new permanent service jobs
650-1,000 construction jobs
51% of new jobs created by the project to be filled by District residents
30% of construction apprenticeship opportunities for D.C. residents residing east of the Anacostia River
Sustainable Construction
1st LEED-Silver mixed-use project in the District – LEED-Gold Neighborhood Development pilot project
National model for waterfront development best practices
First DC neighborhood on the waterfront
Complimentary development to The Yards, Baseball District and the Waterfront Station
A unique destination that will appeal to residents and tourists alike
For more information visit, wharfdc.com.