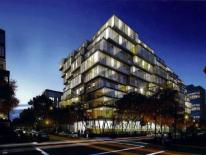 The Office of the Deputy Mayor for Planning and Economic Development selected a development team comprised of EastBanc, Inc., The JBG Companies, Clark Enterprises, Dantes Partners, LS Caldwell and Associates and The Warrenton Group through a competitive solicitation process to redevelop the West End Library and Engine Company 1 Fire Station. Both facilities will be redeveloped within new mixed-use developments.

The West End Square 37 project will be a 325,000 square foot multi-use building with: 7,500 square feet of ground floor retail space including a Library cafe at the corner of 23rd and L Streets, a 20,000 square foot new, world-class West End Library and 164 luxury residences. The residences are currently anticipated to be split into 71 condominiums averaging 1,800sf and 93 apartments averaging 1,300sf. There will be below-grade parking for all uses as well as penthouse and interior amenities for the residences. It is being developed as a LEED Gold building. The former West End Library and MPD station have been demolished and the site excavation was completed in summer 2015.

The West End Square 50 Project will be a 110,000 square foot multi-use building with: a 15,000 square foot new state-of-the art DCFEMS Engine Company #1 on floors 1-2; a 19,000 square foot public squash facility with cafe and educational components on floors 3-4; and residential on floors 4-9, including 6 market-rate residential units, 52 units of affordable housing set aside to households at or below 60% AMI, and 3 Permanent Supportive Housing (PSH) units for households at or below 30% AMI. It is being developed as a LEED Silver building. Engine Company 1 was relocated to a temporary home on the Stevens School site and the former engine house has been demolished. Site excavation begins in summer 2015.
Surplus and Disposition