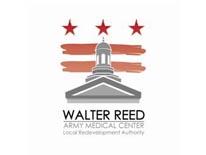 The Walter Reed Local Redevelopment Authority ("LRA") has led an extensive planning process to acquire and redevelop 66.57 acres of property at the site formerly known as the Walter Reed Army Medical Center ("WRAMC"). The Department of Defense deemed the site surplus in 2005, and in November 2016, for the first time in over 100 years since the installation was first opened, the District of Columbia is now owner of 66.57 acres of the site. The remaining portion of the 110 acre site will house a Foreign Mission's Center.
Establishing a new mixed use neighborhood of 3.1 million square feet of development as envisioned in the Walter Reed Reuse Plan and Small Area Plan, will occur through a land disposition structure, in which the LRA portion of the site is leased to the master development team, Hines, Urban Atlantic and Triden through a 29 year ground lease. This structure maintains the LRA as the fee owner, but obligates the master developer to redevelop the site's infrastructure using private sector capital. The LRA will then sell off parcels as they become ready to master developer and/or component developers for vertical development.
For more information on the Walter Reed development project, now called the Parks at Walter Reed, please visit the LRA's website at www.walterreedlra.com or the master development team's website at www.walterreedtomorrow.com.
Current project information may be found here:
Location: 6900 Georgia Avenue, NW, Washington, DC 20012