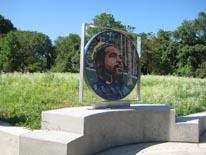 As one of the city's most important park revitalization projects, the District completed capital improvements to Marvin Gaye Park. Stretching nearly two miles across Northeast Washington, the park occupies a stretch of green stream valley along Watts Branch—the largest tributary to the Anacostia River within the District of Columbia.
The first phase of construction consisted of work at two of the park's four main sections: Heritage Green and Lady Bird Johnson Meadows. The Heritage Green is located at the intersection of Division Avenue and Foote Street near the center of the park, while the Lady Bird Johnson Meadows is situated on the western end of the park bordered by Minnesota Avenue and Nannie Helen Burroughs Avenue.
Specific park improvements at Heritage Green includes a community stage, playground, plaza, seat wall and tables, new shade trees, native trees, shrubs and ground covers in addition to the completion of a bicycle trail that runs throughout the park. The Lady Bird Johnson Meadows feature improvements such as new park entrance plazas, a woodland garden, and new walkway, benches, lighting, trees and plants. A mosaic with Marvin Gaye's image graces the entrance of Lady Bird Johnson Meadows, in addition to other features that are themed around the timeless hits of his storied music career.
Development Partners
Fort Myer Construction Company, EDAW landscape architects
Location
The park is located between Minnesota Avenue and Southern Avenue across Northeast Washington in Ward 7.
Development Program
Park Space: 2 miles long
Development Cost : $2.4 million
Civic Investments
Provides revitalized park space for residents of Lincoln Heights/Richardson Dwellings New Communities
Opportunity for residents and tourists to travel along Anacostia Riverfront using water taxi services
Environmental Sustainability
72 SYEP participants (Green Summer Job Corps) performed plant upkeep, patrol traits for litter and waste, clean up of the amphitheater area, and performed other various maintenance and beautification projects