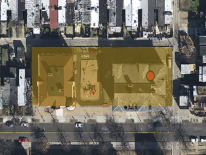 The Government of the District of Columbia, through the Office of the Deputy Mayor for Planning and Economic Development ("DMPED"), seeks to redevelop 30,000 SF Langston and Slater Schools, at 33-45 P Street NW (square 0615 lot 0827).
The site is located in Ward 5, zoned RF-1, and bounded by Bates Street, NW to the North, North Capitol St, NW to the East, P Street, NW to the South and 1st Street, NW to the West. Mundo Verde Public Charter School is across the street and Paul Lawrence Dunbar Senior High School and Friendship-Armstrong Public Charter School are in close proximity.
This property was formerly two elementary schools – Slater Elementary School and John Mercer Langston Elementary School. Slater Elementary School was constructed in 1891 as a school for African American students; the school was part of a complex of schools for Black students along First Street, NW between L and P Streets. The John Mercer Langston Elementary School was built in 1902 to handle the overflow of students from the adjoining Slater School.

Request for Proposals (RFP) was released on July 14, 2020, the submission deadline was September 30, 2020.
"Associates for Renewal in Education, Inc. (ARE) is a current tenant within the Slater School building. To learn more about ARE, please visit http://www.areinc.org/"