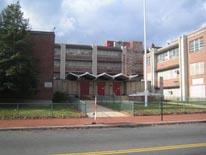 The site of the former Hine Junior High School is located in Ward 6 at 310 7th Street, S.E. in Washington, D.C. The entire property is a little over 3 acres in land area. The Hine Junior High School was built in 1966 and as a school until it was closed in 2008.
The Property is located just north of Pennsylvania Avenue, S.E., adjacent to the Eastern Market and directly across from the Eastern Market Metrorail Station, in the Capitol Hill Historic District, one of the nation's largest historic districts.
After the school closed, the District issued a Request for Offerors (RFO) on September 25, 2008 for a charter school operator in accordance with the Landrieu Act. After completion of the Landrieu process, DMPED issued a Solicitation for Offers for the redevelopment of Hine Junior High School. This solicitation drew 11 bidders from around the country. After a series of community meetings and developer presentations, the District selected Stanton-EastBanc based on several criteria: vision, past performance, financial capacity and community feedback.
Three years after being awarded the project through a competitive solicitation process, received approval from the DC Zoning Commission to move forward with the redevelopment of the Hine School in 2012.
Stanton-Eastbanc and DMPED held a ceremonial groundbreaking on the Hine School site on July 17, 2015 to celebrate the commencement of construction of the new mixed-use development.

Current project information may be found here:
Surplus and Disposition