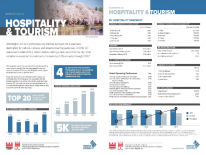 Washington, DC is a world-class city that has evolved into a premiere destination for cultural, culinary, and entertainment experiences. Forbes Magazine recently voted Washington, DC, "America's Coolest City to Live" due to its rich cultural offerings and the active arts and cultural community. The hospitality industry has experienced tremendous growth in recent years as a result of its increasing appeal to business visitors and tourists. Today, the sector serves its traditional market—groups and individuals drawn to the District because of its association with the federal government—as well as other visitors, vacationers and residents.
In 2014, DC welcomed a total of 20.2 million visitors, setting a new record for the city.
There are 74,570 employees in the hospitality industry which supports $3.86 billion in wages.
Visitors spent nearly $7 billion in 2014.
Vacancy rates consistently above 70 percent in the past several years.
DC's total visitor volume in 2014 reached a record high and is expected to continue to increase by 2 to 3% each year through 2018.
There are 29,456 hotel rooms and 2,035 restaurants.
The city has upwards 113 performing arts organizations.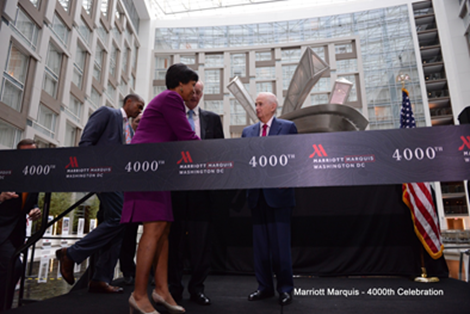 DC's largest hotels include:
Marriott Wardman Park Hotel with 1,332 rooms and 173,000 square feet of meeting space.
Marriott Marquis Washington, DC with 1,224 rooms and over 105,000 square feet of meeting space.
Washington Hilton with 1,201 rooms and 110,000 square feet of meeting space.
Grand Hyatt Washington with 897 rooms and over 44,000 sq. ft. of function space and 11,000 sq. ft. of pre-function space.