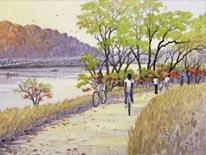 A key component of the revitalization of the Anacostia waterfront is the Riverwalk Trail. The Anacostia Riverwalk shared-use path is located along the west and east sides of the Anacostia River. The 20-mile multi-use trail stretches from Prince George's County, MD to the Tidal Basin and the National Mall in Washington, DC.
The Anacostia Riverwalk Trail Project is being lead by the District Department of Transportation (DDOT). The trail will provide a safe and convenient means for users to access the Anacostia Waterfront and enjoy Anacostia Park. Access points are being linked to neighborhoods and points of interest along the length of the trail.
Regionally, the Anacostia Riverwalk Trail will connect to the Fort Circle Trails, the Bladensburg Trail, the Mount Vernon Trail and C & O Trail. Nationally, the Riverwalk Trail will provide access to the East Coast Greenway, a network of bicycle trails linking Maine to Florida. DC's Metrorail system will interface with the Riverwalk Trail to create a full range of transportation alternatives in the region.
The trail is being developed in a sustainable manner and is implementing LID technology in the planning and design of the trail facility.
Trail segments have been completed around RFK Stadium on the west bank and the River Terrace Trail on the east bank of the river. Construction began in the fall of 2009 on bridges over the railroad tracks east of the river in Anacostia Park and west of the river, just north of the Sousa Bridge. Sections of the trail on the east side of the river near Kenilworth Aquatic Gardens are currently under design, Construction is anticipated to begin mid to late 2011.