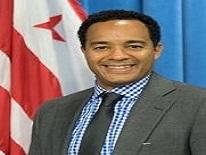 Appointed by Mayor Muriel Bowser in January 2015, Brian T. Kenner serves as the Deputy Mayor for Planning and Economic Development overseeing the administration's efforts to strengthen Washington, DC's economy. Mr. Kenner is primarily focused on producing and preserving affordable housing, creating employment opportunities for District residents, and increasing the District's tax revenue. He manages an active real estate portfolio worth $7 billion and oversees a business development team responsible for attracting and retaining companies from startups to global enterprises to the District.
Under Mr. Kenner's leadership, the Office of the Deputy Mayor for Planning and Economic Development (DMPED) has led key real estate development projects that included creating an iconic waterfront destination with the District Wharf; redeveloping historic properties such as the former Walter Reed Army Medical Center and the St. Elizabeths East campus; and managing the development of two new sports arenas: DC United's soccer stadium, Audi Field, and the Entertainment and Sports Arena at St. Elizabeths East, home to the Washington Mystics. Mr. Kenner has also focused the agency's efforts on supporting Mayor Bowser's vision of inclusive prosperity by developing an inclusive Economic Strategy, funding a grant program that supports women entrepreneurs and establishing an inclusive innovation incubator on the campus of Howard University that serves entrepreneurs and businesses from underrepresented communities.
Additionally, Mr. Kenner is responsible for 20 government agencies or authorities that support the growth and vitality of the District through transportation, housing and community development, infrastructure, environment as well as arts and entertainment. Mr. Kenner has been directly involved in delivering the District's streetcar service, streamlining the District's regulatory processes and managing the Housing Production Trust Fund which finances the production and preservation of affordable housing. The Washington Business Journal recently recognized Deputy Mayor Kenner as one of the 100 most influential business people in Washington, DC.
Prior to joining the Bowser Administration, Mr. Kenner served as the City Manager of Takoma Park, Md., managing the city's day-to-day operations and city finances. Before taking over management of the Washington suburb, Mr. Kenner served as Chief Operating Officer for the Office of the Deputy Mayor for Planning and Economic Development for the District of Columbia. Mr. Kenner has also worked as a Senior Fund Manager at Fannie Mae; served as Vice President at Jones Lang LaSalle specializing in public/private initiatives; as a Manager of the Government Real Estate Advisory Services Consulting Practice at Ernst & Young; and as a Presidential Management Fellow from the White House.
Mr. Kenner serves on numerous boards including DC Housing Authority, Washington DC Sports and Convention Center Authority (Events DC), and the DC Housing Preservation Taskforce. Mr. Kenner is a graduate of the University of Iowa and Harvard's Kennedy School of Government.