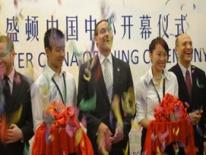 2012 Mission to China
In June 2012, the Mayor of DC, Vincent C. Gray, led a trade delegation of 25 participants from local DC companies and DC government offices in Beijing, Shanghai and Suzhou. The goal of the mission was to broaden Washington, DC and China's economic and cultural relationship and to establish Washington, DC's first international office in Shanghai and to be at the forefront of developing and expanding this relationship.
In addition to organizing the itineraries and mission programs, the DC China Center also organized several matchmaking meetings to connect DC companies with Chinese counterpart companies to gain new trade leads and insights into the China market. By helping DC companies meet local contacts and participate in trade missions, the DC China Center expands the network for informational exchange between Chinese and US businesses, promoting Washington, DC's commercial interests on a larger scale. The success of the mission is evident in the evaluations from the participants, most of whom plan to pursue the connections made in China for future business and trade opportunities.
The DC China Center also recently helped organize a delegation from Wanda, a large Chinese firm, to visit Washington, DC. Wanda is visiting several redevelopment sites around the city to potentially invest in a mixed-use facility.
Building Public and Government Relations
During the 2012 DC-China mission, DC Mayor Vincent C. Gray renewed DC's City Sister Agreement with Beijing, signed an economic and friendship agreement with Suzhou and met with several high-ranking Chinese government officials to advance the DC-China relationship, and strengthen overall US-China relations. Mayor Gray and his government delegation also attended the opening ceremony of the DC China Center, the 2012 Forum for Sustainable Development of Cities hosted by Beijing, visited high tech industrial parks in Suzhou, and toured tech giant Huawei's facility in Shanghai. Trade missions and high level government exchanges such as this not only promote long term, multi-level cooperation between the US and China, but are also indispensable to creating new trade and business opportunities for US companies.