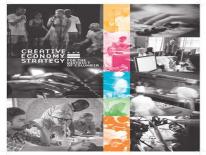 Last Date:
Location:
3225 8th Street NE, Washington DC 20017
Details:
The Creative Economy Strategy builds on the sector - driven methodology of the Five-Year Economic Development Strategy by laying out a clear roadmap for sustained growth that leverages the District's creative industries.
Once implemented, the visions, strategies and initiatives outlined in the Creative Economy Strategy will contribute to the District's commitment to create 100,000 jobs and generate $1 billion in new revenue.
Event registration is by invitation only. Register with your email address to attend this event. REGISTER HERE
We hope you can make it!!
Cheers,
DMPED Creative Economy Sector