Creative Economy Strategy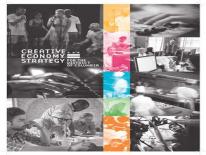 We are pleased to present the Creative Economy Strategy for the District of Columbia.
The Creative Economy Strategy builds on the sector- driven methodology of the Five-Year Strategy by laying out a clear roadmap for sustained growth that leverages the District's creative industries.
Once implemented, the visions, strategies and initiatives outlined in the Creative Economy Strategy will contribute to the District's commitment to create 100,000 jobs and generate $1 billion in new tax revenue.
Want to find out more about Creative Economy? Sign-up here to receive news about our programs and services.
No city or enterprise can survive for long heralding the victories of the past or sustaining old economic archetypes that no longer apply in a technology-driven society. Instead, we must look toward the future with a vision for how best to transform for the 21st century.
The Creative Economy Strategy articulates such a vision for the District, ensuring our economy remains competitive today and in the future.
The District is and will continue to be a premier destination for creative talent and entrepreneurial enterprises, a magnet for major creative corporations and a home for innovative and successful cultural institutions
Here are the visions and strategies which helped set priorities for the Creative Economy initiatives and identified guiding objectives for implementation of the strategy by District leaders.
1. Become a national hub for creative startups and entrepreneurs
By improving access to affordable space and resources
By making District bureaucracy friendlier for small enterprises and organizations
By increasing funding to bring innovative ideas to life
2. Become a magnet for creative corporations
By cultivating a workforce that is attractive to corporations
By incentivizing creative corporations to locate in the District
By promoting the District's Creative Economy to attract new businesses
3. Foster a resilient, entrepreneurial local arts community
By assisting local arts institutions in developing sustainable business models
By mobilizing District resources to support arts and cultural organizations
By building connections across creative organizations, businesses and universities