Request for Proposals (RFP) for Grimke Redevelopment (1923 Vermont Avenue and 912 U Street, NW)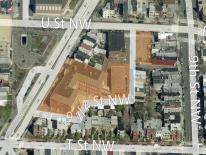 The Government of the District of Columbia (the "District"), through the Office of the Deputy Mayor for Planning and Economic Development ("DMPED"), seeks to (1) rehabilitate and reuse the approximately 52,000 gross square foot historic Grimke School building located at 1923 Vermont Avenue, NW, (2) develop approximately 10,000 square feet of space inside the Grimke School building for use by the African American Civil War Museum ("AACWM"), (3) redevelop the approximately 14,000 square foot portion of the lot area behind the Grimke School building, AND (4) redevelop an approximately 5,900 square foot lot adjacent to the historic Grimke School located at 912 U Street, NW.
DMPED invites qualified Development Teams to respond to this Request for Proposals ("RFP") for the disposition and development of lots 827 and 833 in Square 0361 (the "Site") pursuant to a ground lease (Grimke School building only) and fee simple transfer (remainder of Lot 827 and entire Lot 833).
Release Date: Wednesday, June 4, 2014
Submission Deadline Extended: Thursday, August 28, 2014 (original deadline July 29, 2014)
Pre-Response Information Session and Site Visit
Date and Time: June 17, 2014, at 10:00 AM
Location: African American Civil War Museum, 1925 Vermont Avenue, NW, Washington, DC
Please see the RFP for instructions to RSVP.
Submission Requirements
Detailed submission guidelines and requirements for developers and development teams are outlined in the RFP.
Questions
Questions regarding this RFP should be directed to Reyna Alorro, Supervisory Project Manager at reyna.alorro@dc.gov.