Grimke Redevelopment (1923 Vermont Avenue and 912 U Street, NW)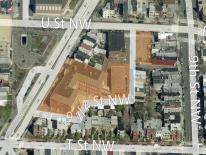 The Government of the District of Columbia (the "District"), through the Office of the Deputy Mayor for Planning and Economic Development ("DMPED"), issued a Request for Proposals (RFP) to (1) rehabilitate and reuse the approximately 52,000 gross square foot historic Grimke School building located at 1923 Vermont Avenue, NW, (2) develop approximately 10,000 square feet of space inside the Grimke School building for use by the African American Civil War Museum ("AACWM"), (3) redevelop the approximately 14,000 square foot portion of the lot area behind the Grimke School building, AND (4) redevelop an approximately 5,900 square foot lot adjacent to the historic Grimke School located at 912 U Street, NW in Ward 1 on June 4, 2014. The RFP closed on August 28, 2014.
A Pre-Response Information Session and Site Visit was held on June 17, 2014, at the African American Civil War Museum located at 1925 Vermont Avenue, NW, Washington, DC, 20001.
On September 10, 2014, DMPED announced the receipt of three responses submitted. The three respondents to the RFP are:
Community Three Development, LLC
Grimke Redevelopment Partners (joint venture MCN Build, Morningstar Community Development, and Four Points, LLC)
Roadside Development, LLC and Sorg Architects

DMPED and ANC1B hosted two Grimke Redevelopment RFP Community Presentation Meetings on October 14 and October 18, 2014. See presentations below.
Announcement of Short List/ Request for Best and Final Offers:
After careful deliberation and based on the evaluation criteria set forth in the RFP, the District has identified a short list of two (2) Development Teams respondents who are being requested to submit a Best and Final Offer ("BAFO"). The two Development Team respondents on the short list are:
Community Three Development
Roadside Development / Sorg Architects

The deadline for the short-listed Development Team respondents to submit their BAFO is December 19, 2014. Following DMPED's review of the Best and Final Offers, DMPED will complete its final evaluation and present its selection recommendation to the Mayor for review. Updated information will be provided by January 2015.