Last Date:
Location:
2730 Martin Luther King, Jr. Avenue SE Washington, DC 20020
Building:
St. Elizabeths East Campus
Details: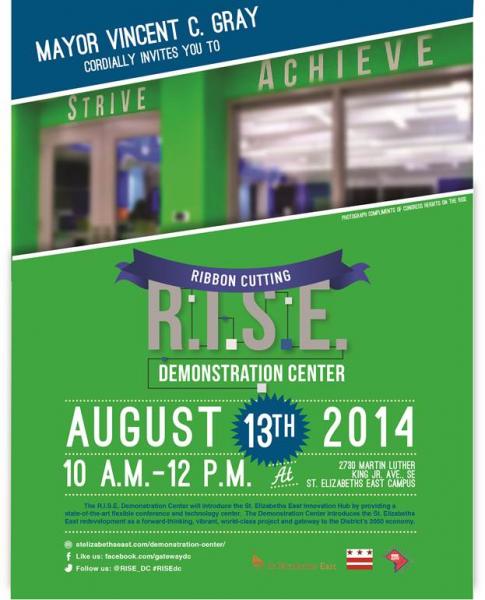 Mayor Vincent C. Gray, Ward 8 Councilmember Marion Barry, Interim Deputy Mayor for Planning and Economic Development M. Jeffrey Miller, Department of General Services (DGS) Director Brian Hanlon and ANC 8C Chair Mary Cuthbert will join Ward 8 residents and community leaders to cut the ribbon on the new R.I.S.E. Demonstration Center.
The R.I.S.E. Demonstration Center will be a flexible meeting, tech and demonstration space designed to build interest in the campus redevelopment by drawing in the surrounding community, creating bonds with residents and furthering the District government's efforts to develop the St. Elizabeths East campus into a major innovation hub for the region and the nation. R.I.S.E., a name selected by community members, stands for Relate, Innovate, Stimulate and Elevate (Rela8, Innov8, Stimul8 and Elev8). The center was supported through funding from the District's forWard8 program, which provided investment designed to support career training and business development in Ward 8.